It may not appear to be much but a single QR code on an outdoor screen can improve mobile click-through rates by over 15%!
Social media and digital ads have always had one thing over all other forms of advertising – a single-input Call-to-Action (CTA)!
All you need to do is click on a link or button and the ad's job is done.
It is this uniqueness – this one-click CTA – that has held digital and social media ads above all else.
However, it has a lot more to do with how you utilize a marketing channel, than what the marketing channel is capable of.
Imagine the possibilities if you could tie that same one-touch CTA to a massive billboard that's visible to hundreds or thousands of people at a mall or outdoor venue.
A lot of brands choose to put a link to their website but the smart ones, they use QR codes!
The beauty about a QR code is that all you need is a mobile phone camera and almost everyone has one of those in their pockets today.
Most cameras (in phones) already have a QR code reader inbuilt, so that's not a problem either.
The only question remains – does it work?
The answer – an overwhelming 'yes'!
QR Codes on outdoor ads have been known to improve CTA action by 15%.
A Smarter Outdoor Formula
Normally, when people refer to an omnichannel campaign, they are talking about a campaign that ran on multiple channels – digital, social, television, radio, print and outdoor – or a combination of these.
When we talk about Omnichannel campaigns, we are talking about campaigns that not only run on different channels, but also serve different purposes on different channels.
Take, for example, a campaign where the outdoor ad has a QR code, which takes the prospect to a content-page on Facebook.
The prospect fills in the form, enters the contest, and becomes a lead.
The lead gets an email thanking them for participating, gives them a coupon and invites them to their website.
The lead, who's read that email (classification: warm lead) and clicked through onto the website (classification: hot lead), goes on to buy something using that coupon (classification: customer).
What you see above is a simple awareness, activation and conversion journey that starts with the use a simple one-touch CTA on an outdoor billboard!
Smart Ads are a Smarter Choice
With mobile phones getting smarter and more vital for day-to-day life, the smart folks in advertising are figuring out ways to use those phone-features and make their ads more effective.
From facial recognition to augmented reality – the possibilities of using an existing piece of tech to upgrade your ad-campaign makes for an interesting discussion.
With Gen-Z and millennials, the conversion numbers are even better – Digital outdoor ads coupled with smart features saw a 38% increase in short-term brand action – better than any other medium's conversion rates.
Here are some benefits that highlight the importance of combining smart ads with highly effective media channels to improve the quality of your campaigns and get better results.
Increasing Sales Pipeline with QR Codes
A QR code on an outdoor ad-campaign turned out to be an exceptional conversion tool as 57% of those who used the QR code were either brand new customers or those who had left without buying from the website.
Whether it was about finding new customers or bringing back lost sales, the little CTA worked extremely well.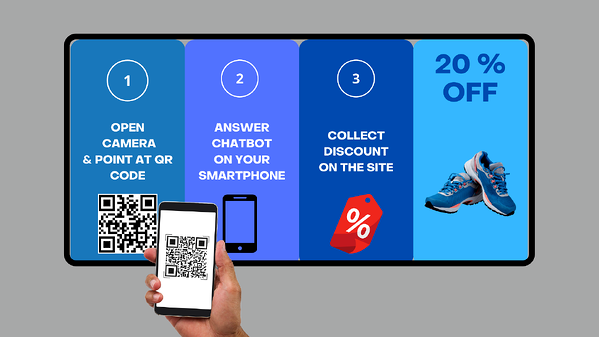 QR Codes trumped Mobile Ads
While a campaign that combined mobile and digital out-of-home ads saw website visits jump by a massive 260%, the findings were consistent with the fact that adding DOOH to any campaign would vastly improve ROI.
Case in point: Mobile ads drove customer interest and site visits by 49%, while QR enabled DOOH-Ads had a staggering 127% higher impact on customer interest and site visits
When not in Rome…
Not all markets have the digital outdoor infrastructure that some developed markets might have.
So, what do you do when you aren't in Rome and can't do as the Romans do?
Well… you improvise by putting your QR codes on static OOH screens!
While digital out-of-home allows for more complex tech, static screens also have space for low-tech outdoor ads that involve QR Codes.
All that needs to happen is that the QR code needs to be visible and large enough, and you're on your way!
In the end, it's all about finding the best and most effective way to reach your customers and give them a simple path to reach the end-goal.
The simpler the actions they have to take, the more likely they are to take it.
And in the end, it's neither complicated nor expensive to combine DOOH with your existing ad-campaigns if you know where to look.
In the end, it's not about the size of the ad-campaign or your budget, it's about the quality of your campaign, so we'll leave you with this one small example.
A large FMCG brand decided to place in-store ads on DOOH screens across their partner grocery stores, nearby buses, signposts and other outdoor screens – and each ad contained a QR code.
At the end of the campaign, they discovered that 53% of their in-store customers had scanned those QR codes.
Now that's ROI!