The Covid-19 pandemic dictated audience movement throughout the last couple of years. Although we cannot predict when we will truly be out of the woods, it is safe to say that many countries have managed to strike a balance between reopening and maintaining rules around mask-wearing and social distancing.
From an Out-of-Home (OOH) media point-of-view, the pandemic has been an innovation accelerator like no other. Major stakeholders have embraced data and technology to bring the channel up to par with its digital counterparts.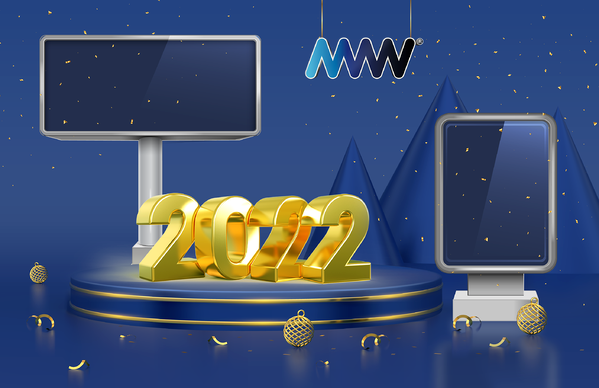 Around the world, more and more employers continue to embrace flexible schedules for their workforce, with 81% of survey respondents believing their employer will continue to support remote work after Covid-19. This also means that OOH viewership opportunities will continue to be dynamic and unpredictable. Reliable measurement will be a prerequisite and advertisers will expect to be able to run agile OOH campaigns based on recent trends and real-time results.
Despite being a stop-start year in terms of lockdowns, a lot has happened in the OOH space, and emerging technologies like Programmatic Digital OOH, Audience Measurement, and Anamorphic or 3D Billboards, among others, are set to become mainstream in 2022.
In this piece, we will take a deeper look at some of these trends and explain why they will shape Out-Of-Home in 2022.
1. Anamorphic & 3D Billboards Wow Audiences
In the past 5 years, we have seen a lot of enhancements in OOH implementations, e.g campaigns that supports dynamic modules and ad-serve, trigger-based actions, weather signals, blockchain verification, mobile retargeting, and many more.
As we move into 2022, technological advancement in OOH will continue to mature and more outdoor campaigns will continue gear towards addressing target audiences better. The same principles apply – when you want to reach, how you want to reach, who you want to reach – all this done in a more targeted and efficient manner.
Recently, we have seen a surge in demand for anamorphic advertising – a type of OOH advertising executed on a curved building or wall facade to help enhance the illusion of the 3D effect. The 3D content usually gets built for the specific type of screen to create the illusion of having 3D depth when viewed from certain angles. This is also known as forced perspective or anamorphosis.
Anamorphic Advertising On Iconic Metros Around The World
Anamorphic billboard content is on the rise in cities like Seoul, Tokyo, Kuala Lumpur, Singapore, and Chengdu. This type of OOH advertising will continue to be a key trend in 2022 as more countries are starting to adopt anamorphic advertising.
Mainly as a PR stunt to drive awareness, anamorphic advertisements have been in demand, and they will only keep growing in 2022. For instance, the 2021 anamorphic advertisement done by Pavilion Kuala Lumpur, first-of-its-kind in Malaysia, drove a lot of traffic to the venue, with many people engaging and sharing their posts about the experience on their social media.
The 3D advertisement were in line with the upcoming Chinese New Year celebration (The year of Bull), where a three-dimensional anamorphic format was used to display an illusion of a bull 'charging out of the screen on its passers-by.
In another example, Amazon's Prime Video ran a campaign to promote its latest series 'Wheel of Time'. The billboard used a 3D format footage of fantastical creatives and characters from the series, bursting out of the screen towards passers-by.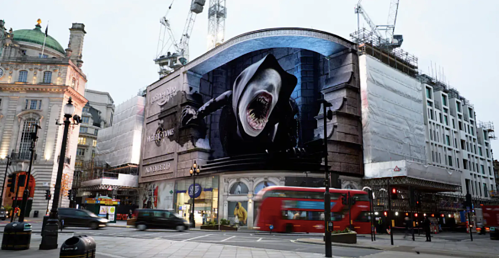 Amazon's Prime Video Anamorphic billboard
2. Rise of Non-Traditional OOH Media
Non-traditional OOH advertising is one of the fastest-growing OOH segments for a targeted and focused campaign. OOH advertising has a variety of formats such as digital and static billboards, LED bridges, pillars, bus wraps, lamp posts, and some newer forms such as kiosk screens, tabletops, transit, retail, and POI based advertising, and many more. All these types of advertising have their way of capturing the public's attention.
For instance, some people might be attracted to the design of digital billboards, and some might like the realistic feel of anamorphic advertisements. With the enhancements on technology, together with automation, newer forms of OOH will begin popping up, simply because any opportunity to reach consumers offline is an opportunity to drive higher engagements.
Take for example – the automatic hand sanitiser kiosks that are already becoming a norm and are now in high demand and will continue to grow in 2022.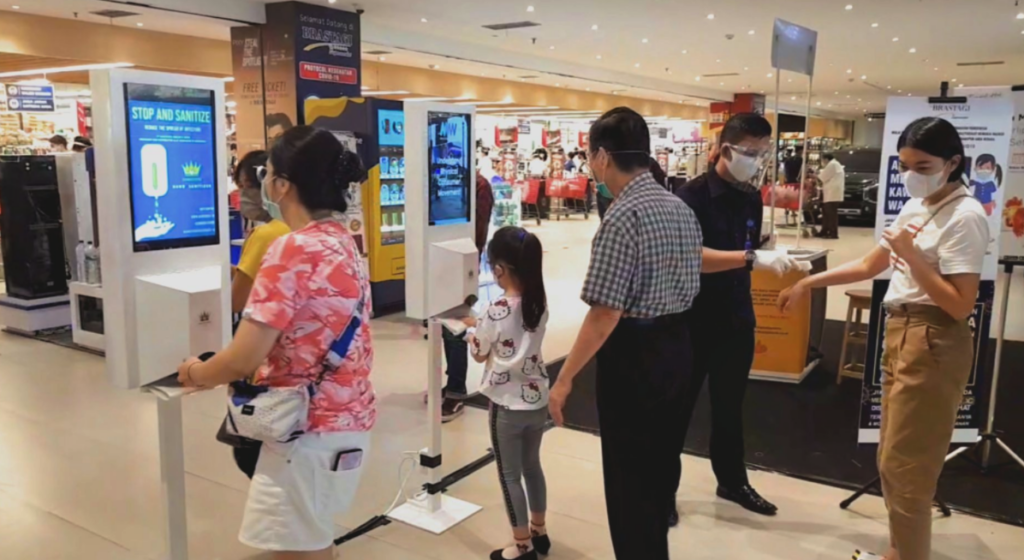 PT. Danendra Abyudaya Adika's Hand Sanitiser Kiosks In Action Across Indonesian Metropolis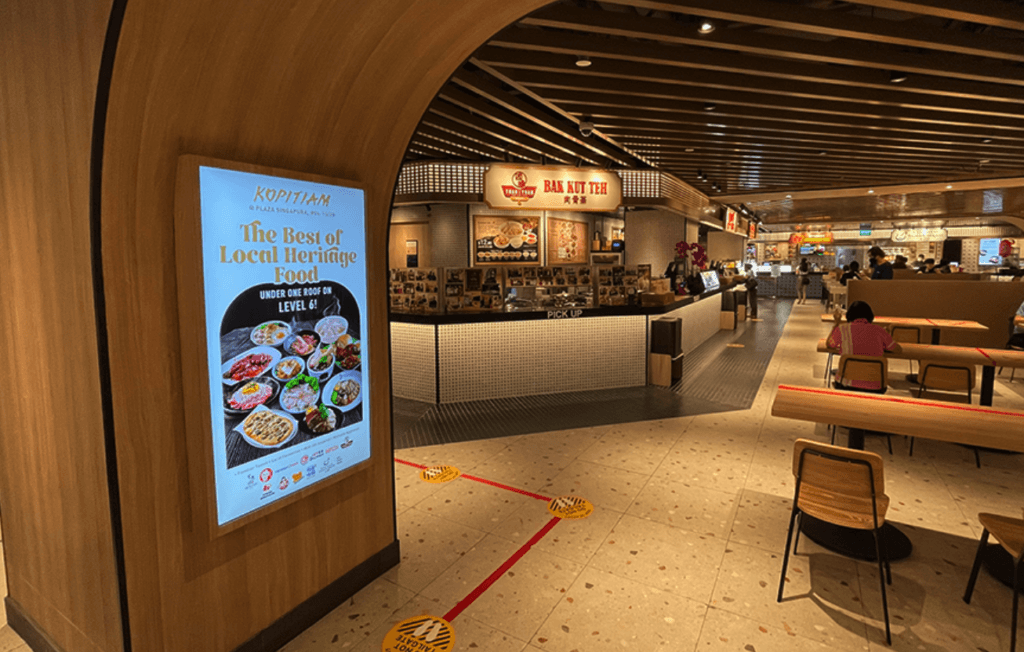 Foodcourt Advertising In Singapore Powered By Moving Walls Audience Measurement Solutions
Now we are starting to see more non-traditional place-based media assets in the physical world – e.g. elevators, gyms, rideshare vehicles, transit hubs, office networks, shopping malls, food courts, just to name a few.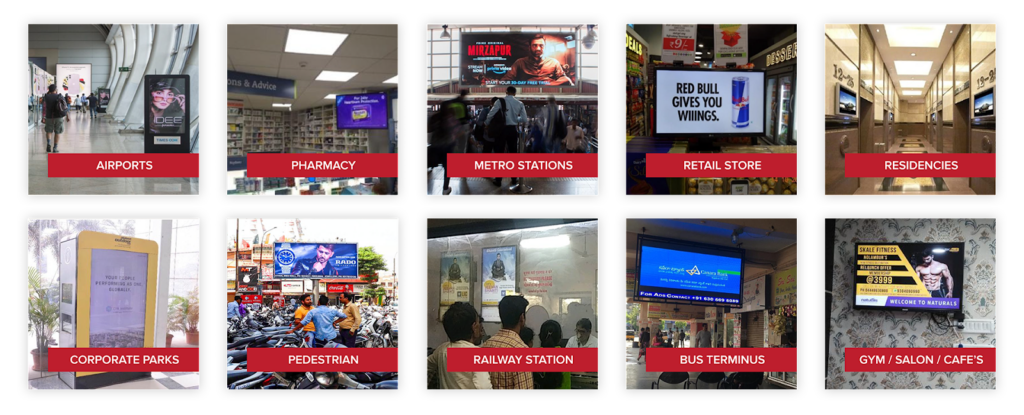 New Types Of Non-Traditional Media
As more non-traditional formats get added into the OOH mix, the additional advertising spots are going to be beneficial to marketers in 2022.
With OOH's capability to leverage location intelligence for targeting, measurement, and attribution, marketers can now build a more comprehensive picture of their audience movements and drive higher consumer engagement, both offline and online.
With more OOH formats continue to innovate and grow, it will not only offer marketers a broad selection of media choices for their campaign planning, but also deliver to its audience with affirmation through technology and data analysis that showcases its capability to reach an enormous audience with reasonable and affordable prices.
3. Surge In Demand For Dynamic OOH Advertisements
Dynamic campaigns offer highly personalised, highly targeted, and contextual advertising capabilities to deliver high-impact campaigns.
These ad-placements account for a wide range of data points like location, demographics, environmental factors such as weather, special offers, or promotions to help brands target the right person, at the right place and time.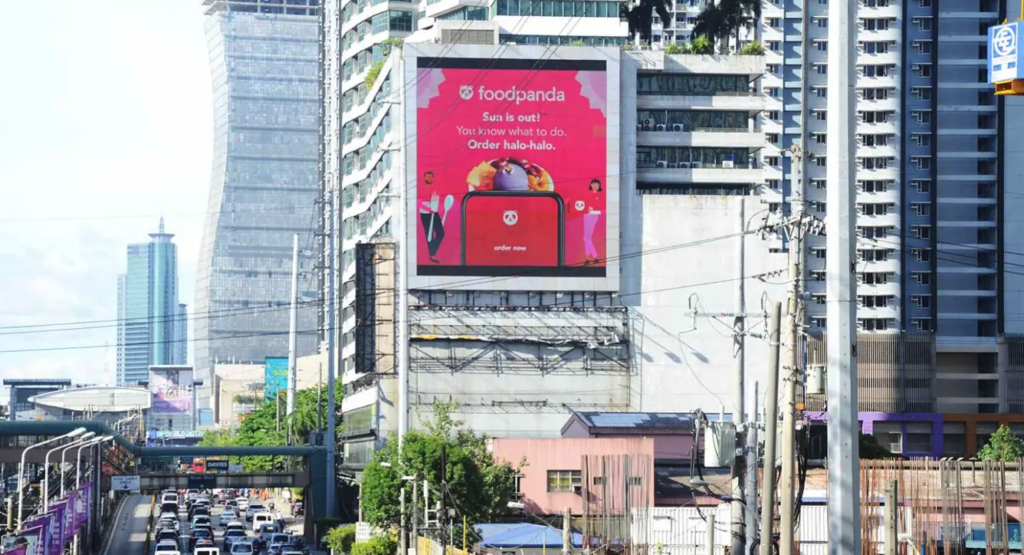 Foodpanda Weather Trigger Campaign in the Philippines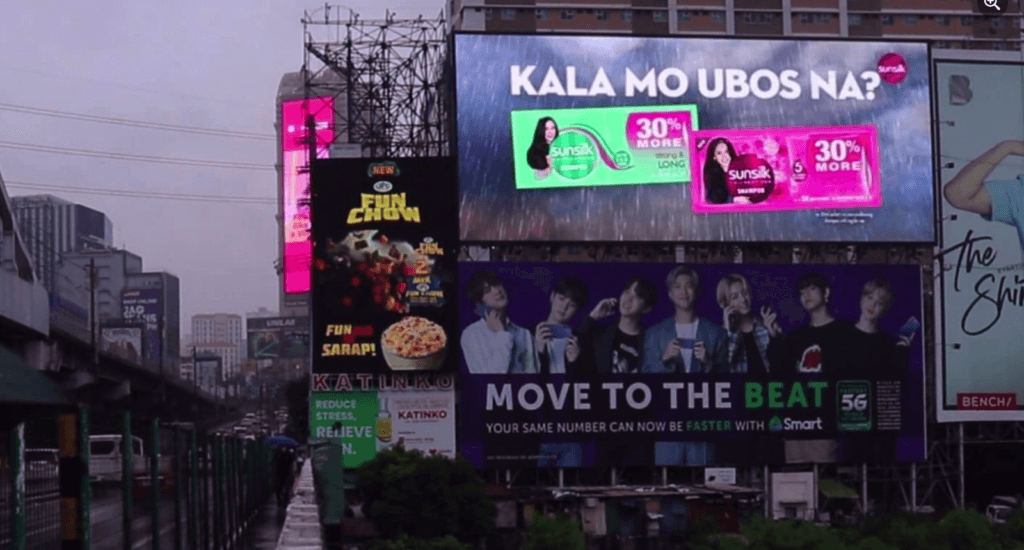 Sunsilk Weather Trigger Campaign Across Manila Metros
In 2021, brands like foodpanda and Sunsilk leveraged on weather triggers to curate dynamic contents for their product. Foodpanda used multiple creatives activated by weather conditions, while Sunsilk set up a trigger to display dynamic contents whenever it rains.
Brands are able to use location and audience data signals to run many forms of dynamic creatives. These types of data signals can include audience footfall traffic, audience segments, search and social trends, weather, traffic, and time.
User-generated content (UGC) will also continue to be the key contributor of dynamic contents in outdoor advertising. This can be in the form of pictures, testimonials, videos, tweets, and more.
A well-known chocolate brand wanted to drive engagement and call-to-action behaviour of the audiences by integrating their DOOH campaign with a social media platform. Users were asked to upload their selfies through a portal, and the selected selfies were then displayed on high reach outdoor screens with labels that determined the mood of the users.
Rather than running a regular creative, there is an opportunity to amplify its brand awareness by using a Dynamic DOOH to spark discovery and inspiring calling out behaviour for the photos created and showcasing them on high reach DOOH screens across Klang Valley, Malaysia.
4. Moving OOH Innovations
Another uprising trend underway is Moving OOH – "Mobile Billboard" e.g. Vehicle wraps, Taxi-top screens, Bus wraps, and LED truck advertising.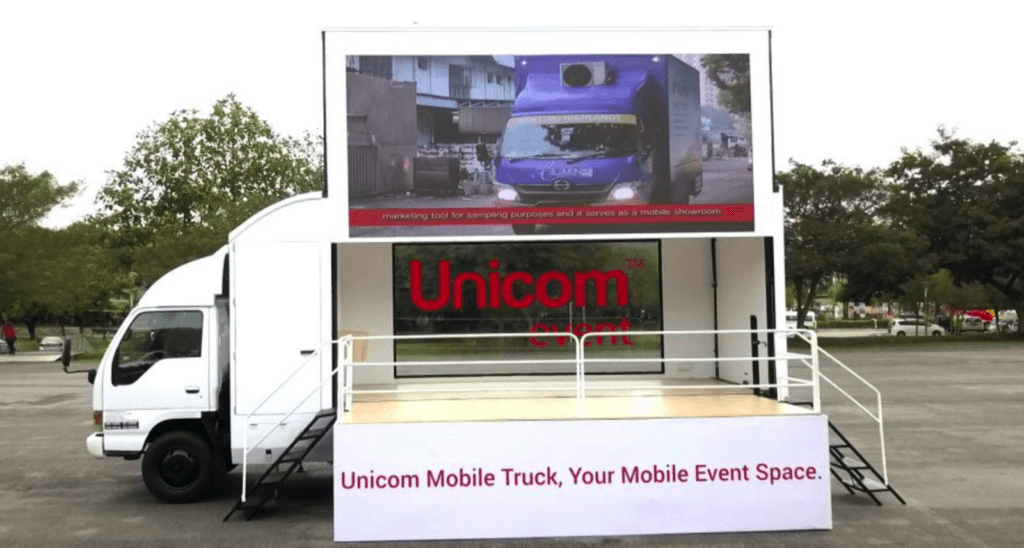 Moving OOH – LED Truck (Illustration from Unicom Marketing)
Moving OOH – Taxi Wrap (Illustration taken from Moove Media)
Truck and mobile showroom company Unicom does not just supply event management services but instead, they take a step further by acquiring a content management system that has programmatic capabilities for the existing LED screen-powered trucks.
This form of moving ads is great to take your brand literally to the streets and interact directly with audiences.
Moving OOH can also be integrated with POI triggers to engage consumers in a more personalised manner. A highly accurate POI data identifies stores, making it possible to create geofences within the proximity of those locations and trigger ads when audiences are within the area.
For example, if a fuel brand wants to generate awareness and draw audiences to nearby petrol stations in certain areas, they can set up a geo-fence area around that store and prompt ads like '50 m Ahead, Turn Right' when the audiences come directly into the geo-fenced area.
Moving OOH can be a great add-on to the advertising mix. This form of OOH advertising can be very 'attention-grabbing' to the eyes of the audience. It helps advertisers get their message/brand/event across to those who it will impact the most, and where they are best positioned to see it.
5. Adoption of Data for Planning and Measurement
In the past, the measurement of OOH ads has been strenuous. The best information marketers were able to get was only on basic audience profiles like age, gender, ethnicity, and so on. Now, deeper audience insights are available that can help marketers understand their audience behavior, interests, and which stage of the funnel they are in.
The possibilities that data can brings us are endless. Here's what's available now and what will strengthen over time:
Spot-based viewership
Audience tracking by day
Campaign hourly performance
Mobile device audience profiles
OOH is moving into common metrics where audience data is used to trade the effectiveness of campaigns
In 2022, OOH advertising will thrive to move in this direction by providing more accurate information and timely updates to the advertisers. Granularity in data becomes the key to effective OOH measurement.
6. More Inventory Available for Programmatic Buying
Previously, OOH advertising has been considered too expensive or unaffordable by many small organisations. A myth of outdoor suggest that OOH was considered only for premium advertisers with hefty budgets who booked long campaign durations. On top of that, additional costs were involved depending on many factors such as format, circulation, demographics, campaign duration, and creative development, and more.
However, OOH in today's world, sees a surge in digital OOH formats, all thanks to technological innovation. There are plenty of formats to choose from depending on the planner's budget. The digital versions of new formats on the other hand offer day-parting, spot-based advertisements, and high traffic hours buy.
Campaigns can now be booked by per day-part, giving advertisers flexibility in choosing desired times they want the ad to play. Advertisers will just have to pay based on spots used when running their advertisement on the billboard.
The 'programmatic' element of DOOH brings more capabilities like dynamic and contextual ad playing. The entire process is very similar to digital, but due to OOH's extremely unique nature, some form of manual intervention is still needed. OOH has various formats, each with individual requirements, not to mention regulatory bodies in between the process that has a say in what ads are allowed and not allowed to be aired.
Countless research has also been done to prove that OOH does retain attention in a non-intrusive way. It is the best priming medium, while consumers are believed to respond to outdoor advertising more than any other medium.
Marketers, Gear Up For 2022!
So we have talked about anamorphic billboards, non-traditional billboards on the rise, dynamic campaigns, Moving OOH innovations, Adoption of audience data, more programmatic ready screens – all these will shape the landscape of OOH in 2022. The question is, are the marketers and planners ready for it?
To learn more about how to gear up for 2022, check out how marketing leaders did it in 2021 with all their learnings collated into an Outernet media playbook. This playbook will showcase some innovative Outernet Campaign executions done by (Outernet Marketing Innovation Group) OMIG members who, like everyone else, went through the same challenges brought by the pandemic, yet continued to find innovative ways around reaching their audiences.
Not only does the playbook offer insights on what the marketeers do to optimise their OOH campaigns during planning and execution, but it also features actual campaign results.