High-end brands turn to premium digital advertising screens to remain top of mind during shopping experiences.

For luxury retail brands, the intent behind the messaging has always been about making a bold statement by offering an impression of exclusivity and luxury. Out-of-home digital displays used to be an afterthought, however today, for these iconic brands, it is a medium of choice, to reach a wide audience and create impactful, high-visibility campaigns
If you look around today, you will find those luxury brand ads splashed across bus shelters, large hoardings and transit ads, meant to target specific demographics and geographic locations. They are also experimenting with ambient or experiential advertising, such as creating pop-up shops or sponsored events, to create a sense of exclusivity and luxury around their brand. Some of these luxury brands particularly in department stores are using interactive kiosks, to engage with consumers in new and innovative ways.
The key theme here continues to be the importance of having a physical presence that cannot be missed – or skipped, for that matter.
The Exclusivity Factor
The very nature of OOH is such that it considers people and places insights in the site selection process. This is critical for luxury – to maintain exclusivity and brand safety as well as to reach the right audience in the locations where they are most likely to be influenced by ad exposure.
However, what luxury brands can't ignore is despite their audience segments' preferring in-store experiences, they are still connected, consumers. Combining physical and digital data points just makes more business sense for luxury advertisers looking to maximize their OOH investments.
Where does OOH fit in the sales funnels for luxury brands?
Out-of-home (OOH) advertising can help luxury retail brands at several different stages of the sales funnel:
Awareness: OOH advertising can help luxury retail brands increase visibility and awareness among potential buyers, and introduce them to the brand and its products or services.
Consideration: OOH advertising can help luxury retail brands stand out and differentiate themselves from competitors, making them more likely to be considered by potential customers.
Conversion: OOH advertising can drive foot traffic to physical stores, which can help luxury retail brands create an immersive and memorable shopping experience and increase conversion rates.
Retention: OOH advertising can help luxury retail brands create a sense of exclusivity and prestige, which can help foster customer loyalty and encourage repeat business.
Advocacy: OOH advertising can also help luxury retail brands create a strong brand identity and reputation, leading to positive word-of-mouth and advocacy among customers.
Why Moving Walls
In the DOOH ecosystem, real-world intelligence is helping luxury brands up their DOOH game by –
Truly understanding their target audience based on persona and affluence
Sharpening OOH site selection by profiling affluent consumer hotpots
Measuring their OOH investments better
As seen with campaigns executed through the Moving Walls platform, Digital out-of-home (DOOH) allows for greater targeting and personalization of ads. A recent example is the audience-driven dynamic DOOH campaign executed for YSL's fragrance and skincare range. The brand, working with its media agency, strategically selected DOOH screens that had a high target audience reach. To enable effective priming, the screens chosen were nearby malls.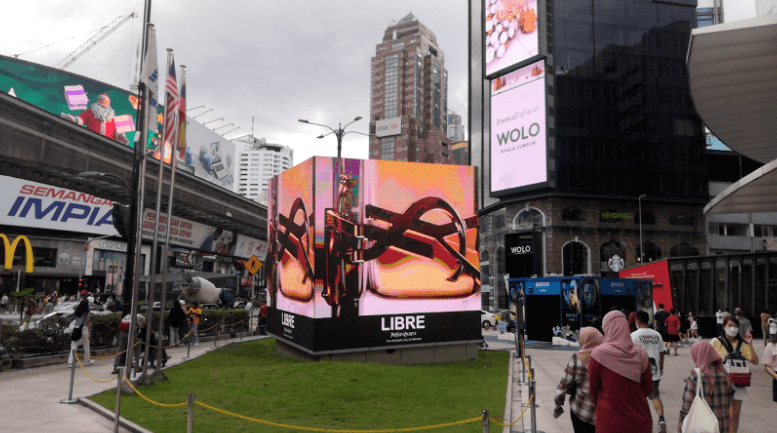 Moreover, the platform is well-suited allowing for greater flexibility and creativity in ad campaigns. Digital displays offer animation, videos, and other interactive elements that can make ads more engaging and memorable for viewers.
But most of all, OOH affords luxury retail brands significant measurement and analysis of ad performance. With digital displays, brands can track metrics such as how many people saw the ad, how long they looked at it, and even how many people interacted with it. DOOH allows for a better reach and frequency, which can help build brand awareness and recall.