The pandemic outbreak has caused a technological change in the OOH industry – altering how advertisers plan, measure and buy outdoor advertising.
OOH has undeniably taken the hardest hit, and since the pandemic started, nearly all OOH campaigns were either cancelled, put on hold, or shifted some way from the initial campaign plan.
However, it has not all been darkness for OOH and Covid does not stop innovation in this space.
Surviving this digital shift, out-of-home (OOH) remains the only traditional media to continue to see consistent growth in the regions. As businesses are starting to reopen again, marketers are slowly gaining the confidence to invest in outdoor advertising again. The outdoor ad spends shows a consistent increase with advertisers spending nearly $7 billion in 2021. This increase has further allowed the DOOH revenue to record positive growth from 68% in 2020 to 86% in Q1 2021.
Driven by innovations, digital screen conversion and more importantly, by enabling automation, out-of-home media has been elevated to new heights.
Together with location intelligence, out-of-home media is now measurable, with metrics that marketers can now use for more targeted strategies, which in return, generates more efficient campaigns.
In this guide, we will look at the rise of OOH media in this digital era, and why it works. We'll also take a look at how OOH media is becoming more addressable with location intelligence and platforms that equip buyers and sellers with automated planning and buying capabilities.
We will also explore ways digital OOH is being planned and executed alongside other channels to drive more engagement and better results.
And finally, we will check out some digital OOH use cases, look at the trends, and overview the various formats of these sites.
This ultimate guide will put you on the right path to creating your own digital OOH strategies by fully understanding how this traditional media has been transformed not only physically but also in the way it is being bought.
Defining OOH and DOOH
Before diving further, we have to know the differences between OOH and DOOH.
Out-of-home (OOH) advertising also referred to as outdoor advertising, outdoor media, or out-of-home media, are advertising channels that reach the consumer outside of their home. The goal is to reach the consumer while they are on the go, whether commuting, running errands, waiting for a bus, shopping at the mall, or simply walking down the street. Advancements in OOH technology have made ad delivery easier than ever. As the number of digital screens grows in public places, so too, do our opportunities to make an impact on our target audiences.
Digital-out-of-home (DOOH) advertising is taking the outdoor ad arena by storm. Using digital forms of OOH advertising couples traditional OOH advertising with digitally-focused execution like electronic billboards, signs, and screen displays in public areas.DOOH advertising combines the importance of location placement with the tailored ad experience of data-driven digital content. The DOOH landscape is vast, including digital billboards, information kiosks in retail centres, and even backseat screens in a taxi cab. What makes DOOH unique is its ability to reach the consumer in a real-world setting.
Resurgence of OOH
DOOH or digital out-of-home advertising includes any physical media sites that reach "Moving Audiences" and can be programmed to serve digital visuals. These include Billboards, Unipoles, Wall Facades, E-Buntings, Over Head Bridge Screens, LED trucks, Indoor Digital Signage, In-Car Screens, and many more.
While revenues continue to grow for the medium, OOH media delivers reach and results, unlike any other media.
| | |
| --- | --- |
| When DOOH is combined with social media messaging, the foot traffic increased by 68%– Vistar Media DOOH Primer | OOH drastically increases campaign reach when paired with any media channel. When paired with Mobile advertising, OOH increases reach by 316%– Touchpoints Study |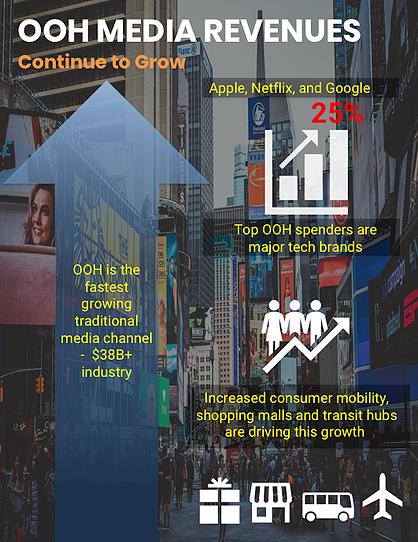 Why OOH advertising works
People spend more than 70% of their waking areas outside the home – travelling, shopping, working, eating – Locations where they are exposed to physical outdoor advertising. OOH is continually transforming to prove to brands and agencies that it is better than other forms of advertising.
Multiple touchpoints – There are hundreds of OOH media options that reach consumers where they work, travel, shop, and more.
Unskippable – Ad-blocking and skipping are on the rise, while OOH being physically outdoor, is just part of the landscape.
Drives Online Actions – Billboards increasingly use promo codes and web CTAs to drive smartphone actions.
Build Brand Trust – A simple and psychological fact that familiarity builds trust, so by displaying consistent messages across multiple OOH locations over time, you'll instil confidence in the mind of your consumers for your brands and established authority.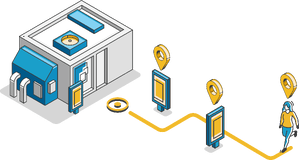 Read More: The Magic of Priming and How You Can Improve this Using OOH
The growth of digital screens has also given OOH new capabilities:
Creative Flexibility – dynamic ad serving between multiple creatives then measure the result and optimise accordingly.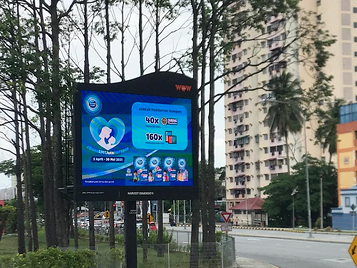 Case Study: Leading FMCG Brand Leverages Offline Advertising to Extend Video Reach
Day-parting and spot-buying – choose time-slot and ad spot based on target audiences density.
Read More: When OOH Measurement Hurdles, SPOT the Difference.
Ad-serving based on data triggers – serve relevant creative based on weather, trends, traffic, sales, and other triggers.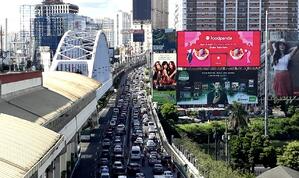 Read More: Foodpanda PH Uses Traffic And Weather Signals To Display Curated Menu Items
However, digital OOH buying is not straightforward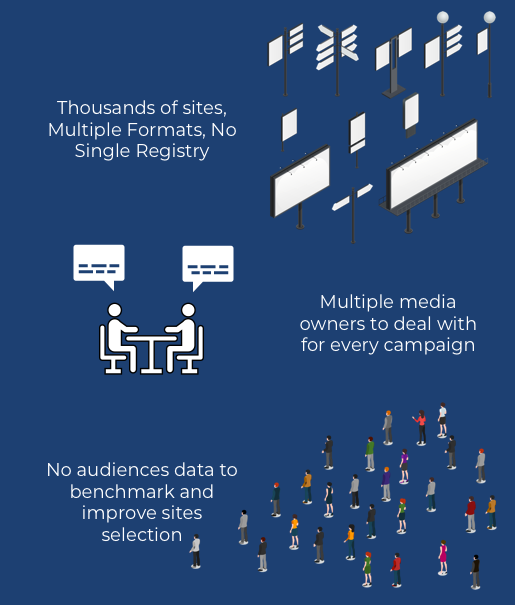 How digital OOH buying is changing
We start building knowledge of how audiences are engaging with DOOH – using location intelligence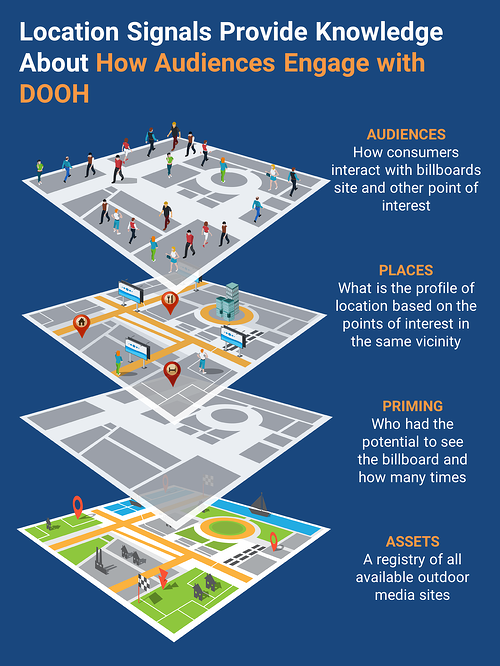 Then equip buyers and sellers with Automation Tools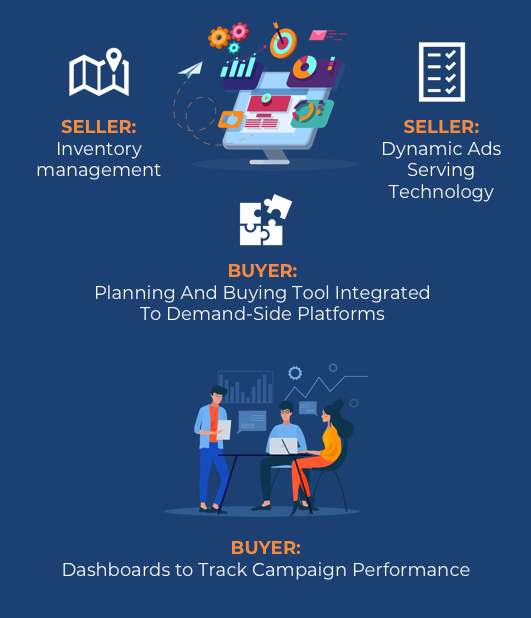 Buyers are now able to, Plan Better, Measure, Optimise, and Integrate.
Customisable audience segments based on location intent
Time-belted campaigns for maximum efficiency
Campaign tracking with audience measurement across billboards for better optimisation
Stepping up transparency on DOOH Verification – using Blockchain
Download: Optimising DOOH – FOODPANDA'S PLAYBOOK FOR OOH MEDIA
Building a Stronger Outernet Environment
Outernet is now a big thing.
We are seeing a huge interest in OOH media owners adopting advanced measurement and automation technology. The pandemic has definitely accelerated digital transformation in the OOH industry. The rapid transformation happening in the Outernet world allows marketers to continue embrace agility and accountability as a core aspect of their marketing strategies. With the industry being digitalised,the Outernet media is able to covers every possible OOH media opportunity. Even though the audiences are off the internet, brand engagement opportunity can still be created and amplified with Outernet media.
To establish industry thought leadership on how addressable audiences, automation and omnichannel integration can be applied to solve real-world business problems, we created Outernet Marketing Innovation Group, OMIG for short, where we gathered an elite group of marketing leaders that bring together their knowledge, experience and best practices when planning an offline campaign. The group will be given the Moving Walls location media platform to run dynamic and contextualised campaigns and these learnings will be later turned into case studies, white papers and knowledge sessions.
However, Digital OOH doesn't mean programmatic DOOH
Simply put, programmatic OOH is an automated OOH sales process using a technology platform; programmatic enables OOH assets to be bought and sold through the use of the software.
The majority of programmatic OOH offerings are mostly programmatic direct, where inventory is sold directly and spots are guaranteed. This is done through a two-step process:
Buyer chooses the media sites they want to work with,
Plan and optimize their campaigns based on relevant metrics and setting parameters on how their contents will be presented, and finally, allowing the system to automatically deliver the campaigns.
Location Intelligence Makes Programmatic OOH Highly Targeted and Measurable
Location intelligence is crucial for planning, targeting and measurement in programmatic OOH. There's probably no other media segment that has benefited from the adoption of location intelligence as much as OOH.
The ability to identify who viewed your ads are making OOH an extremely powerful media for targeted placements and personalisation. The combination of mobile data provides marketers with better audience targeting, actionable audience insights, and offline attributions.
Programmatic OOH is still a relatively new thing for agencies and advertisers. The progress had been slow, but it's definitely gaining momentum. Early adopters are capitalizing on this innovation and are seeing great success with their clients.
Read More: Asia's First Programmatic OOH Powered by Moving Walls Reaches Tipping Point as Campaigns are Planned, Bought, and Delivered Automatically on 800 Screens Across Malaysia.
OOH + Location Data – Give brands targeting ability in the real world.
90%+ purchases are made in the physical world – marketers are rushing to understand this offline consumer movement.
Moving Audiences insights are used to build smarter OOH media plans that is designed to reach specific target audiences.
With location intelligence, marketers can answer the where, when and what about their consumer journey, analyse consumer behaviour and audience demographics.
Read More:
Your Complete Guide to Location Intelligence
Moving Walls is uniquely positioned in the Programmatic Ecosystem
Formats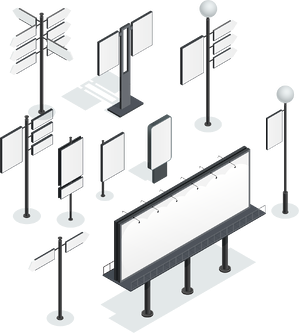 DOOH advertising can be found in nearly every shape and size in both large and small formats and found in public spaces, dense city areas, highways, and private venues. Let's take a look at some of the most common outdoor formats, how they can be used, and what are the most preferred contents types used in each of these formats.
Commonly used DOOH Terms
Take a look at some of the commonly used terms in the out-of-home space.
Future Trends of the Outernet/OOH Media
Mobile Integration
When DOOH is added to a mobile campaign, there is a 303% increase in the audience reach. Mobile ads can be tied to certain, pre-defined, geo-located pinpoints based on where DOOH advertisements are placed. In short, when a user enters a pre-determined radius of a given DOOH campaign, it can trigger specific mobile ads that tie to the DOOH content in the area. This dynamic style of advertising has the potential to reduce ad spend by limiting ad delivery to only the most relevant areas and enhancing the impact of the campaign by showing a single user multiple variations of the ad in an area relevant to the brand or company.
Data-Driven
Advancements in data along with the recent decrease in data prices are making digital ads more accessible to every business and brands. OOH advertising data will provide opportunities for not only big but also smaller-scale businesses to reach more people while targeting specific audiences. Understanding audiences based on their movement, shopping habits and preferences. Marketers are now able to deeply analyse where their consumers go, how they spend their time and which paths they take throughout their shopping journey.
Audience Targeting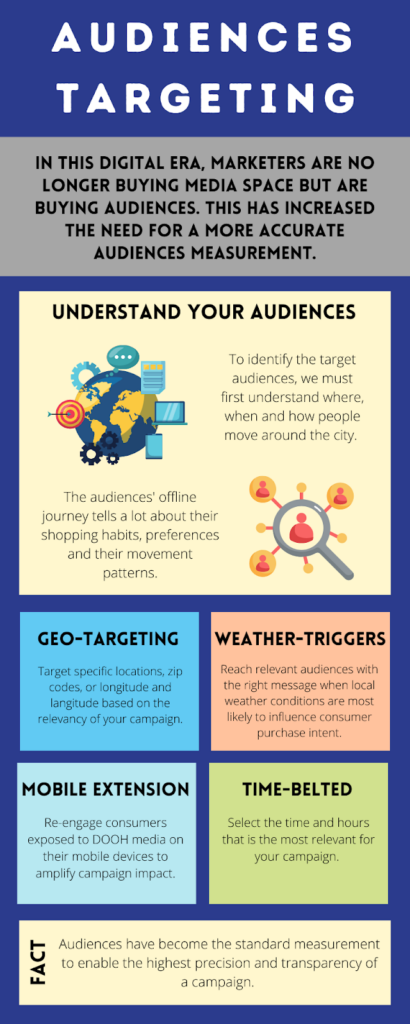 What to expect from DOOH going forward?
Throughout the pandemic outbreak, a lot of changes and shifts happened in the digital OOH advertising space – understanding audience movement to optimise campaigns, connecting content to real-world conditions, and even buying the media programmatically using digital platforms. The next few years promise continued growth and transformation in a sector that has added quality, relevance, creativity, data and technology to its offering.
Moving Walls is a global advertising technology provider with a presence across Southeast Asia, India, West Africa, and the Americas. We provide cloud-based technology to improve the effectiveness of location-based media. We operate Moving Audiences, a location intelligence platform that is powered by a US-patented multi-sensor measurement model. The platform provides planning, buying, verification, and analytics for out-of-home advertising and hyperlocal mobile advertising. Moving Audiences has been deployed in several markets including Singapore, Malaysia, Indonesia, Philippines, India, and Nigeria and can independently connect to any out-of-home inventory management and supply-side platform.
Experience the Moving Audiences Platform